In today's competitive banking market financial institutions are keeping their eyes open for new ways to win customers.
Many financial institutions are looking to compete and form alliances with different industry groups or offer their own refreshed digital brand, applying the same principles driving the success of neobanks, to attract new market segments such as Millennials who expect great digital products and signify future banking customers.
Operating multiple brands can help you reach these new-to-you market segments and revenue channels by enabling your institution to attract customers to different brands and product offerings that resonate with these different audiences.
Multiple independent brands delivered from one core solution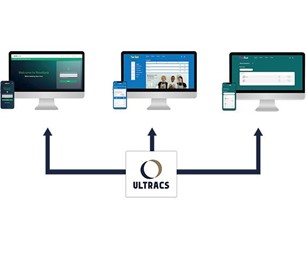 Ultracs Corp has a Multi branding solution that will give you the tools you need to easily manage multiple brands within a single Ultracs core banking solution. It makes it easy to promote each brand's unique products, messages, look and feel, and all the aspects that make it appeal to the target market.
We have been helping clients manage multiple brands for a long time, and the power of our Multi branding solution helps our clients establish additional brands – a winning aspect in an ever competitive market.
Multi branding – manage your brands from A to Z!
Multi branding is an invaluable solution that allows your organization to unlock a world of opportunity to acquire new customers while not compromising on the relationships in place with your existing brand by facilitating the management of investment into your financial institution, not just moving your existing customers' money from one product to another.
We recognize that for financial institutions with multi brand strategies, there is so much more to consider than simply the marketing of your brand - you also need to be backed by technology that allows you to operate the new brand as a distinct market segment, with the extra advantage of operating within one core banking solution.
Our Multi branding solution can help you cover all aspects of a new brand, from the interfaces that your clients see - such as branded online banking and letters - through to all that takes place behind the scenes in your banking system, like associating customers' accounts with the right products in a way that minimises human intervention.
Our internet banking solution is integrated with the Ultracs core banking system, and they act as one allowing you to present a different look and feel for each brand's online banking site, whilst the Ultracs core ensures the important banking functions you need to run your brand are taken care of.  
By implementing Multi branding it's all managed for you - from displaying the correct Routing Transit Numbers (RTNs) throughout the customer's banking channels, to directing customers to the products associated with their specific brand, issuing branded communications, and providing efficient staff workflows to reduce operational costs.

Key features and benefits  
Multi branding:
Makes it easy to implement multiple brands, and save time and associated operational costs of running different brands.
Gives you the freedom and tools to make your marketing objectives come to life. You can explore new opportunities to grow your business and appeal to different markets.
Manages everything in one convenient environment for a consistent banking experience.
Allows you to easily manage your customers once they have joined a specific brand – staff can clearly see at a glance which brand a member belongs to allowing clear communication and product differentiation.
Product names and specifications can be differentiated per brand to offer customized savings accounts, terms deposits and/or loans products for your different markets.
Operators can only select products that are applicable for each customer, ensuring they select the correct accounts, loan and credit card products from the start, preventing mistakes and mixed messaging which can be time-consuming to fix.
Each brand's website is linked to its own My Viewpoint internet banking This ensures members can only login to their own banking site, and see the products, logos, look and feel and communications associated with their banking brand.
Statements, letters and SMS / email alerts display the member's brand and the right product descriptions, ensuring brand identity flows through your communications.
Important banking functions, such as separate RTNs for each brand, are managed throughout the banking system to display correctly for members in their online banking and statements.
Create unique brands based on one banking system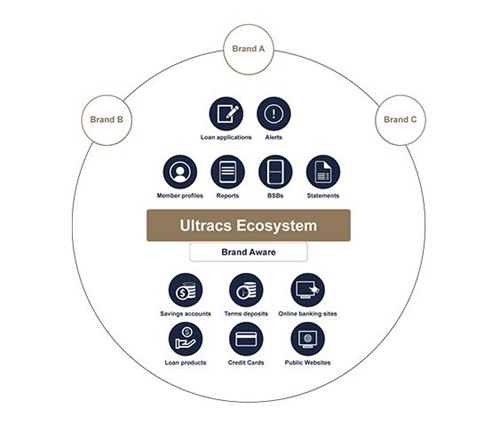 Your opportunity to grow and win new customers
Ultracs Corp and the Ultracs Ecosystem has class-leading digital solutions and everything you need to start another brand and appeal to new market segments. When combined with our Multi branding solution, you can compete head-to-head with new entrants in the financial marketplace and stay relevant.
Please contact us to find out how we can help you to easily manage multiple brands and win new customers with Ultracs Core Banking and our Multi branding solution.  
View Blog By Category
Tags